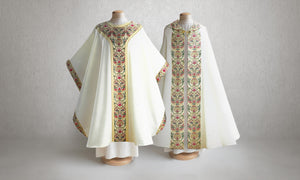 Maison Bouvrier
Irina Tapestry
Funeral Pall
*Excluded from Altar Parament Sale
Funeral pall with Irina tapestry center cross design with gold banding edged in gold embroidery. Off white base fabric. Matching chasuble and cope also available.
Fabric: Light weight polyblend

Measures: Overall  7.5"w x 12"l (30" drop)
* Please note orders may differ slightly in color from the image presented due to small variations in fabric dye lots and/or computer screens. If you would like to see fabric swatches before ordering please contact us.